Product description
Novaplate 125
Novaplate 280 FS
Product description
Novaplate
Pasting tissue paper
Our new premium pasting tissue paper, NOVAPLATE, suits the requirements of continuous grid pasting technologies for the production of flooded lead-acid batteries.
In Terranova Papers we render the properties of paper to assure good runnability in the plate production line and achieve a high productivity.
Terranova Papers has a team with a long experience in papermaking; our Technical Department continuously develops new products and it allows us to find specific solutions for our clients. We have the most qualified people and the most advanced technology.
Novaplate 125
Novaplate 280 FS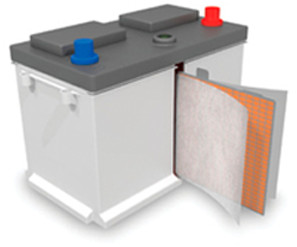 Key Properties:
Low grammage paper: reduction of the cost per plate.
High porosity and capillarity: unbeatable adhesion to the plate.
High wet strength: Efficiency and machinability.
High purity paper: extends battery life.