Product description
Compofilt
Compostable paper for Coffee and Tea
As we all know, nowadays products that contain plastic but are not compostable can become a big problem. This concern has inspired us to develop a new family of products called COMPOFILT.
Our new COMPOFILT meets the EN 13432 standard for compostability of materials, which naturally disintegrates in 10 weeks. COMPOFILT also has the four-star OK Biobased certification, which indicates the highest percentage of renewable raw materials.
Materials
Our new filter paper offers a plastic-free and certified compostable alternative. The technology consists of replacing plastic with PLA, a material that has the same properties, but is renewable, biodegradable and compostable.
PLA is a biopolymer derived completely from sugar extracts of annually grown plants (maize). PLA meets the food contact requirements for the hot beverage industry and is compostable according to EN13432.
100% renewable and compostable

Main features
Substance: 16,5 to 35 g/m2
Composition: Blend of abaca fibres, cellulose and PLA.
Heat-sealable tea bags and Pods, Pads and Coffee Capsules.
It offers consistent extraction quality and minimal coffee grounds in the cup.
It offers excellent brewing capacity and good retention of tea particles.
Ranges:

Standard
Premium
Unbleached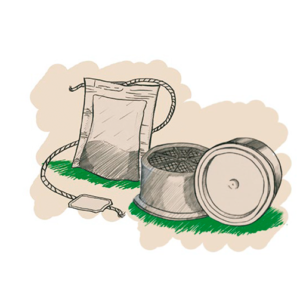 Key Properties:
Compostable, certified by TUV Austria
Biodegradable
Excellent runnability
High yield
Good wet and dry strength
Neutral odour and taste